Join our community!
For followers and sympathisers of edgy urban genres
28 August to 2 September 2018
AKC Metelkova mesto and
Španski borci Centre, Ljubljana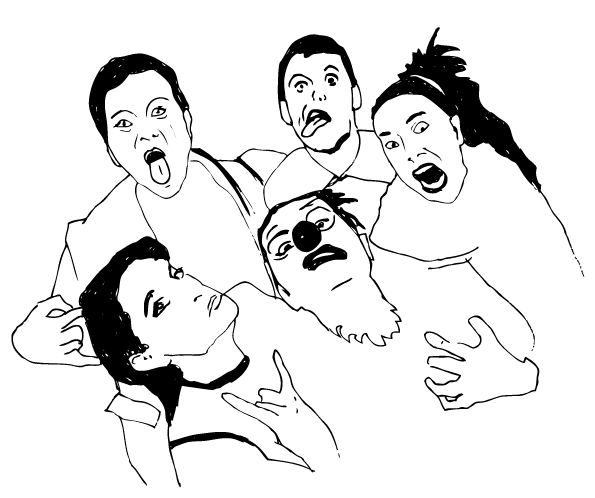 With this first yearly gathering of maladjusted we are founding the Syndicate of Outlandish Entities!

new burlesque and cabaret, irony, satire, grotesque and queer
Disclaimer:
Appropriate only
for adults
Children have to stay with their babysitter!
A paradox of efficient recycling where the known gets a different vibe and where one searches for and expects the pleasure of repetition.
— Fan Zala D.
Who are they?
Syndicalists
Events Schedule
They Crawl Out of Their Holes at Dusk
Schedule
Exhibition Burlesquing is open from 28 Aug to 2 Sep (20:00 to 24:00).
Syndicate 2018 is taking place in collegial co-habitation with Mladi levi festival
Show
Uniform Price
€ 5
Ticket proceeds goes to the performers.
Tickets for David Hoyle: Diamond are available through mojekarte.si
Booking
Production and Support

Rozinteater
Cultural Institute
Drop Dead
Association for Contemporary Art of Clowning
ImproŠke
IMPRO Association
Belina and Petković
both self-employed in the field of culture
Alkatraz Gallery
KUD Mreža
Our Good Fairies
Sponsors


They Gave Us a Few Dimes
Financial Support


And This Good Fairy
Media Sponsor
In Collegial Co-Habitation with
Mladi levi
Just a Few Steps Away
Locations
AKC Metelkova mesto and
Španski borci Centre, Ljubljana
From 28 August to 2 September
Two Events for Closure
18 and 20 September
You have something to say?
Get in Touch
Tell us everything, we are interested in your opinions and suggestions.
sindikat@emanat.si